pms gummy
Scientifically-formulated, pharmacist approved vitamin for PMS with only essential, natural ingredients.
✓ Minimize hormonal acne*
✓ Decrease mood swings*
✓ Reduce Cramps*
✓ Improve mental clarity*
Old Price $38.40 per bottle
Delivered fresh monthly
Skip or cancel any time
30-day risk-free guarantee
Completely Clean
Cruelty Free
Vegan
Non GMO
Key benefits.
Aura keeps it real. We designed Aura with you in mind.
Hormonal acne that occurs during menstruation is caused by fluctuations in hormones. These changes in levels can trigger acne breakouts. Chasteberry serves as an aid to hormone fluctuations so you can say goodbye to that pesky hormonal acne.*

Low levels of serotonin during PMS can cause mood swings and irritability. Chasteberry serves as a hormone regulator to aid in mood swings while Martime Pine Bark promotes healthy skin and collagen.*
Maritime Pine bark helps balance out blood flow while Dandelion Root flushes out toxins.*
Similar to cramps, bloating can be unbearable during PMS. Martime Pine Bark works to minimize the impact of bloating and breast tenderness that you feel around your PMS.*
Maritime Pine Bark supports productivity and focus, making the day-to-day routine a little more bearable.*
Science-backed period support that is formulated by pharmacists.
Clinical research shows that daily intake is the most effective way to get the most out of your supplements. Investing in your long-term health with a daily vitamin routine will help you get the best results and help you say goodbye to unbearable PMS.

Our team of pharmacists are constantly trying to improve our formulas to make sure it works the best it can all month long.

Aura contains 3 main botanical ingredients that are specifically selected based on their effect on PMS. Maritime Pine Bark, Chasteberry, and Dandelion Root all work to make your PMS manageable. These ingredients have been used for years, and now they're all in one gummy working together.

Just like any routine, practice makes perfect. We know it's hard to remember to take vitamins while you're running out the door racing to work, it happens! Taking Aura twice a day, every day is the best way to get the most effective results, but sometimes it just takes a little pratice to work it into your routine, we get it! Using the included tracker card can help you remember if you took your vitamins and best of all - if fits perfectly in your purse or work bag!

It's important to always consult with your medical professional before taking supplements or new birth control methods. Your doctor can help you figure out what the best solution is for you so you can feel amazing even during your period & PMS.

For most vitamins, it's recommended to take with food.
Customer Reviews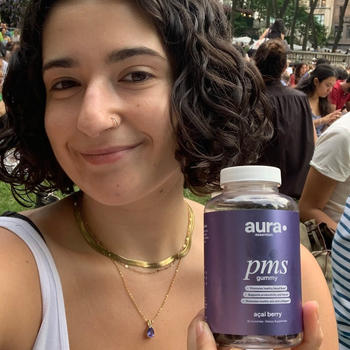 07/22/2022
Almost like magic!
I was skeptical about these helping with my PMS (which is severe due to PCOS), but these are like magic. I have two every day for the first couple days of my cycle and I noticed a significant improvement in my cramping and nausea. The taste is similar to a blueberry mixed with acai, just not as sweet which is preferable for me. They last quite a while and leave no aftertaste.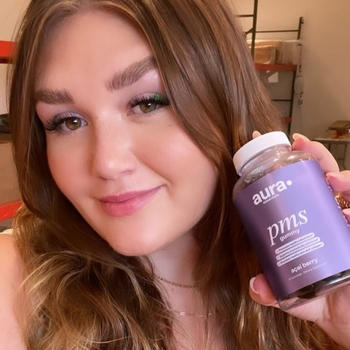 07/16/2022
Highly recommend
Wow. I am 22 years old and I have a horrible time with swallowing pills. I also have horrible cramps during my period and today I had barely any cramps because of these sweets. These taste really good as well along with the almost instant relief you feel when you eat one. I highly recommend this for any woman.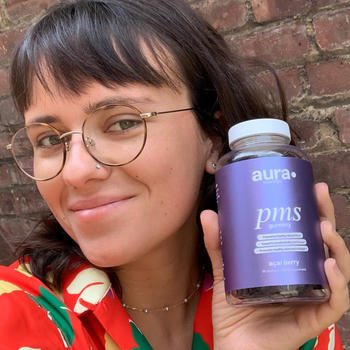 07/13/2022
I feel SO much better!
I absolutely love this product. It was worked wonders. The focus that this product brings to my life is something I didn't expect when thinking about PMS but my work productivity has increased SIGNIFICANTLY. I feel happier and overall healthier, I can stay on track without getting distracted every 30 seconds. I will keep purchasing this item. 10/10 HIGHLY RECOMMEND.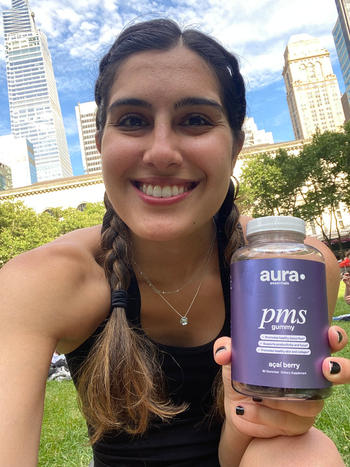 07/10/2022
Happier and overall HEALTHIER!
I suffer from Nausea almost daily. These help me feel so much better without having to rely on my prescription med everyday.
01/13/2023
Love this brand, new routine here!
He's gummy's are super yummy and now might go to routine. Energizing and yet relaxing at the same time, feels like I'm getting all the good things and definitely having a better experience for my once a month because of it.
Completely Clean, Essential Ingredients
Maritime Pine Bark

Maritime Pine Bark promotes healthy skin & collagen, supports healthy blood flow, productivity and focus. It even protects the skin against UV rays, & maintains skin elasticity so you can feel as beautiful as you are.*

Helps with focus + blood flow

Chasteberry

Chasteberry reduces bloating, breast tenderness, & mood-imbalance.*

Helps with bloating + mood

Dandelion Root

Not only is it a powerful antioxidant, Dandelion Root helps maintain healthy flora and flushes out toxins.*

Helps flush out toxins

Açaí Purée

Our signature flavor helps to mask the botanical ingredients and earth tones

Helps with flavor & taste